live performance for motion tracking system and 12 loudspeakers
2013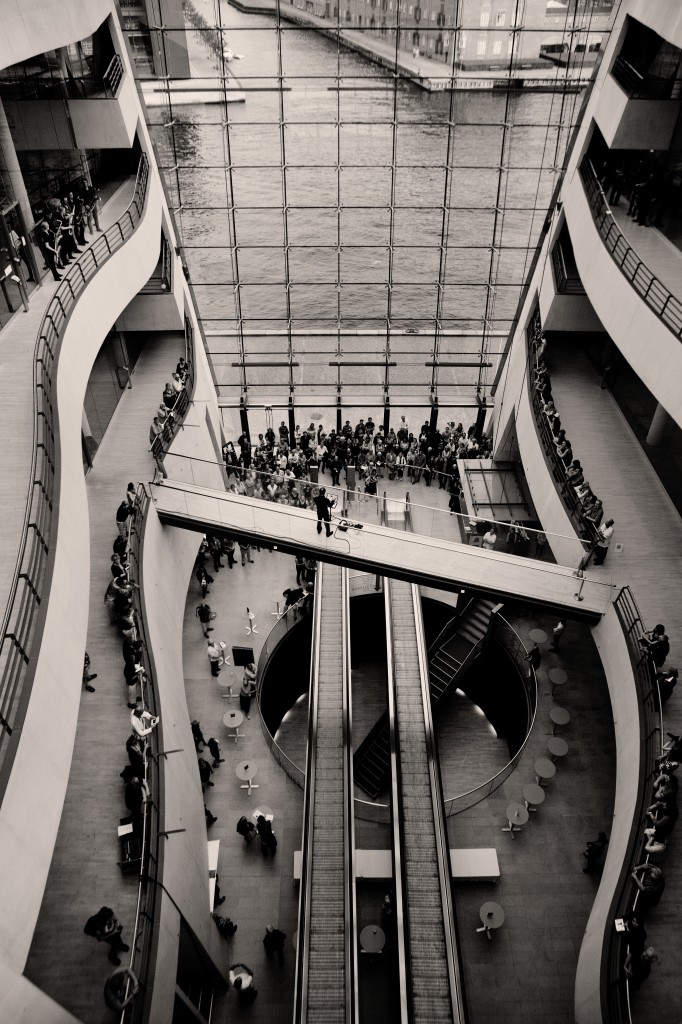 No Water, No Moon (2013) was commissioned by the Royal Library in Copenhagen in commemoration of the Danish Composers' Society 100th anniversary and premiered on this occasion. Through the use of a webcam and specially designed software the composer performs the work by moving his hands in front of his computer, thereby "conducting" the sounds and distributing them between the 12 speakers built in to the ceilings of the three floors of the Atrium, called the Black Diamond,  at the Royal Library in Copenhagen.
The title refers to a Buddhist "Koan" or short text designed to confuse the mind and open it for spiritual insight. The story goes like this:
When the nun Chiyono studied Zen under Bukko of Engaku she was unable to attain the fruits of meditation for a long time. At last one moonlit night she was carrying water in an old pail bound with bamboo. The bamboo broke and the bottom fell out of the pail, and at that moment Chiyono was set free! In commemoration, she wrote a poem:
In this way and that I tried to save the old pail
Since the bamboo strip was weakening and about to break
Until at last the bottom fell out.
No more water in the pail!
No more moon in the water!
Following the premiere at the Black Diamond in Copenhagen the work was adapted for outdoor performance and performed by Wayne Siegel at six outdoor concerts at the Louisiana Museum of Art in Humlebæk, north of Copenhagen.